Areas linked by Yurikamome
Attractive Cutting-Edge City
Infinite Possibilities at Tokyo Sea
As the capital of Japan, Tokyo continues to grow as a major international city. Since the latter half of the 20th century, many major international cities have been utilizing waterfront spaces such as ports and rivers as residential spaces and business clusters to help enhance the attractiveness of a city.
When viewed from inland, spectators can see Tokyo's waterfront which is located at the southeastern portion opening into the sea. Although primarily used for port-related activities such as logistics, facilities, and factories, the area is attracting new kinds of other industries due to the areas infinite possibilities, including delivering new energy, activities involved in globalization, information sophistication, and more.
For example, in the area from Shimbashi to Shibaura, which is linked to Tokyo Water Front City via Rainbow Bridge, infrastructure development and redevelopment have been carried out in conjunction with the development of the coastal area. Areas with mixed-use such as Shiodome Sio-Site, have sprung up while bustling waterfront spaces like Takeshiba Pier have been redeveloped.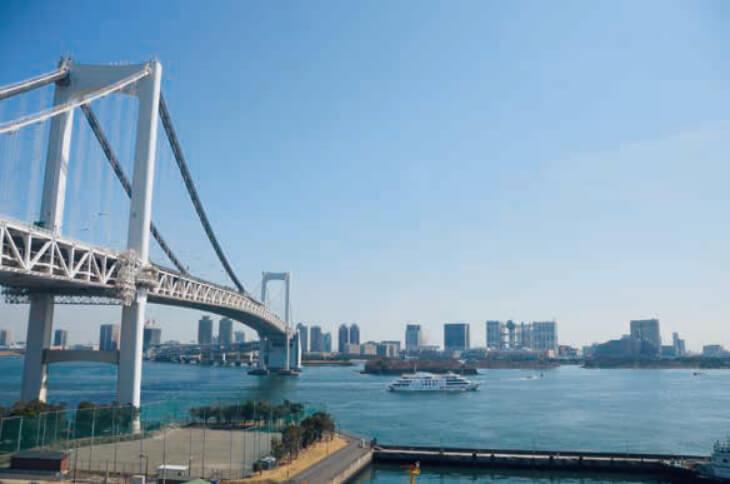 The Tokyo Waterfront City Area Continues to Evolve Together with the Shimbashi and Shibaura Coastal Areas
Tokyo Waterfront City area is located at the center of Tokyo's waterfront. Since being picked as Tokyo's seventh subcenter to be developed after Shinjuku, Shibuya, Ikebukuro, etc in the Tokyo Metropolitan Government's "Phase 2 Tokyo Long-term Plan" (1986), the area has been undergoing continuous development.
Two railways, Yurikamome and Rinkai Line, and two trunk roads, Tokyo Metropolitan Expressway and Tokyo Wangan Doro have been developed and expanded, which has remarkably enhanced access from the center of Tokyo. Close to Haneda Airport and also connected to Narita Airport by expressways, the Tokyo Waterfront City area serves as a node for international and wide-area traffic.
Broadly divided into four areas (Daiba, Aomi, Ariake Kita and Ariake Minami), research facilities, convention facilities, and recreational facilitie are springing up in the Tokyo Waterfront City area which already boasts commercial facilities, office buildings, high-rise apartments, in efforts to build a city offering various amenities by maximizing the use of the attractiveness of the waterfront.
In addition, various competition venues have been planned to be erected for the 2020 Tokyo Olympics and Paralympics, drawing more attention to the area and showing the world the new face of metropolitan Tokyo in the 21st century.